The Meridee Winters Method and Books - encouraging creativity and brilliance in every student.
Meridee's method has helped thousands of music students enjoy music and get results, all while encouraging creative innovation and higher level thinking. The generally accepted method for teaching an instrument (in other words, what everyone else does) is to teach only at the lowest level of learning – rote and recall. Meridee Winters materials, however, with their emphasis on creativity and innovative thinking, help build creative intelligence by tapping into the brain's highest level of learning.
Each lesson is customized to suit the student. Through patterns, themes and songs and with the help of Meridee's exclusive books and games, students get the unique opportunity to learn more than just an instrument. MW students learn to think critically and creatively while also learning to express themselves.
Meridee's exclusive method also addresses the unique needs of young beginners, students with ADHD and alternative learners. With her creative curriculum and original materials that incorporate concepts like stimulus variation, universal music patterns, creative songwriting and improvisation, Meridee Winters has seen her unique music method benefit thousands of students. Every MW lesson is custom tailored to suit a student's specific needs and goals, resulting in a fun and successful musical experience.
Here are some of Meridee's Original Teaching Books and Materials: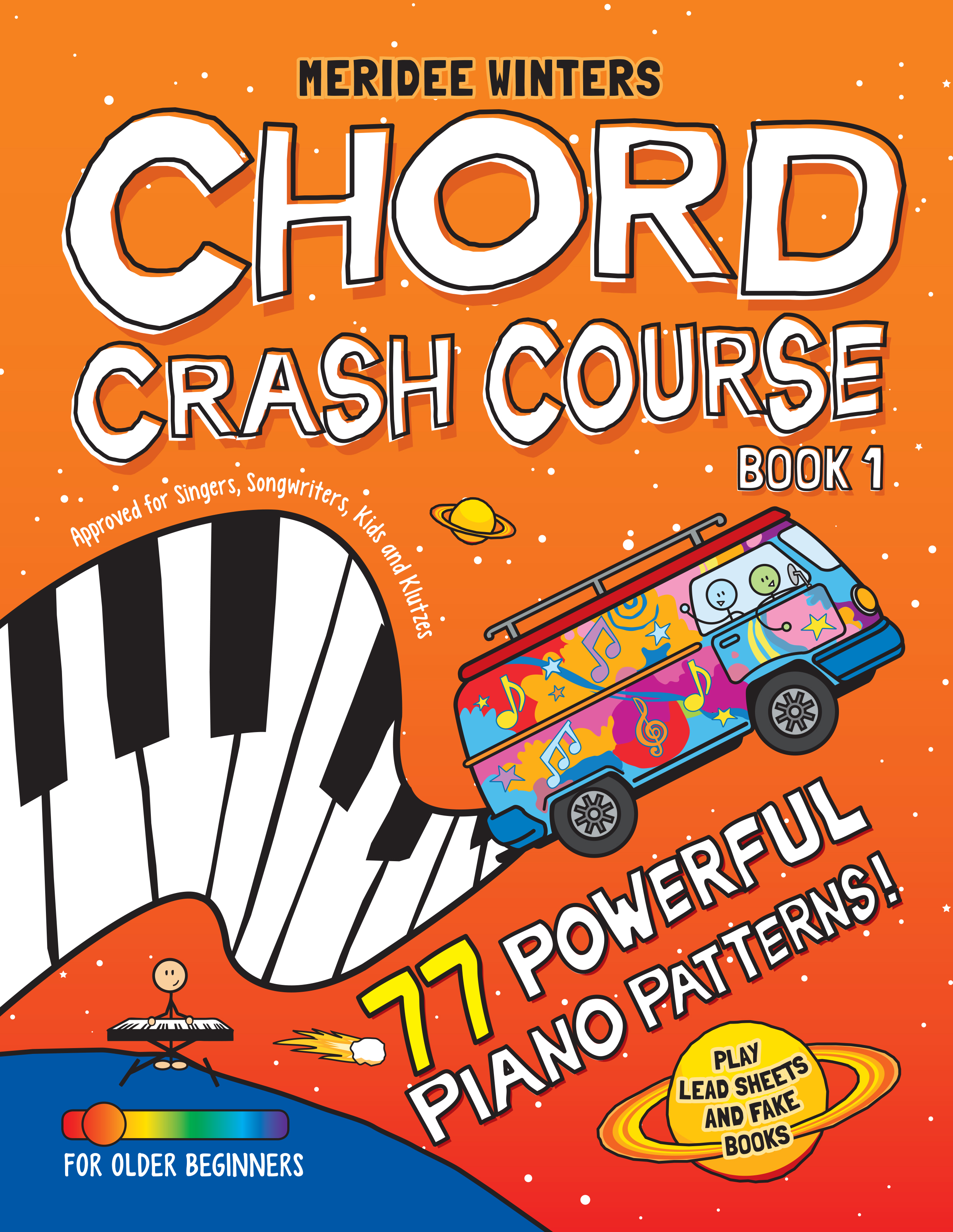 Meridee's "Chord Crash Course" provides piano students with essential musical skills, great results and a strong foundation for their own creativity. Before creating the MW School of Music, Meridee Winters owned a recording studio. She found that many vocalists could not play piano or guitar, and as a result, could not write a song on their own! As a solution, Meridee developed a "crash course" that gave them the chord theory and skills they needed, helping hundreds of musicians become better writers and performers. Years later, Meridee began teaching piano to children, and found that her "Chord Crash Course" was a great tool for students of all ages. The end result is a music book unlike any other, designed to provide you with great results and a strong foundation for your own creativity.
Note Quest Piano Game Book
Note Quest has been used and tested by over 10,000 students. Meridee Winters Note Quest (Piano Game Book): Note Reading Drills and Activities is an innovative music education tool that features pages of vibrant, effective and FUN note reading games. These activities are great way to strengthen note reading and sight reading skills, since students are drilling and internalizing notes while focusing on specific hand positions, intervals, ledger lines and more. This book can be used by independent learners or by teachers as a fun and powerful lesson tool. Each playful, space-themed game can be used in a variety of ways, from timing yourself on the page and trying the beat a previous record to searching the page for each occurrence of a specific note. See the table of contents for more great ways to play, or invent your own. Note Quest also includes templates for creating your own games, which you can custom tailor to you or your students' needs.
Many finger exercise books do just that - exercise fingers. These books go beyond just finger exercises, urging students to flex their brains and imaginations, while gaining valuable skills and learning the power of patterns. Let your "karate master" teach you about chords, arpeggios and more while you work your way to the ultimate challenge - your belt test. These books prove that finger exercises can be FUN!
This book of powerful, playful patterns is perfect for young beginners and alternative learners. Students play memorable music that they and their friends will love to hear again and again. They learn easily and sound great right away by using the power of patterns. Students explore the entire piano and create song stories. Enchant your lessons with Piano Castle!
Meridee Winters Whole Brain Piano
This book is a lighthearted, playful approach to music for new beginners. Students sound great right away while exploring different musical styles, learning basic skills and having fun! Unlike other books, the Whole Brain Piano book has space to imagine, color and create! Double your fun and double your knowledge in the second half of the book with duets! This book makes it easy for teacher/student duos, family members, or friends to share a meaningful, musical experience! Duets range from the blues to Egyptian melodies, clowns to classical patterns… and more. Players explore musical styles from around the world, helping accelerate learning and boost creativity!
Right Brain Piano: Soundtrack Symphony – From Scales to Soundtracks
This book easily replaces outdated piano books by boosting skills and encouraging imagination as students create their own "soundtrack." Intermediate students will explore modes, scales and improvisation under the guidance of their "director." This book can be used independently, as a supplement to any method series, as a motivator for early intermediate students or as a follow up to other Right Brain books.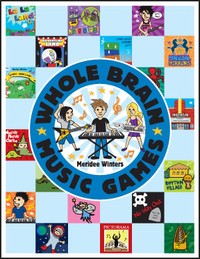 The Meridee Winters TOP SECRET Game Book
A student AND teacher favorite, the MW Game book has been called a "secret weapon" that keeps lessons engaging while helping build and practice essential musical skills. Music has never been more fun or imaginative! This book includes exercises in note reading, songwriting, improvisation, rhythm and more. Improve your skills and creativity by leaps and bounds while playing games that are fun for all ages!