Alex - guitar, piano, songwriting
Alex first discovered his passion for music after learning a few basic chords from his father (an avid Beatles fan). It wasn't long before Alex was signed up for private lessons, writing his own music, and starting his own band. Alex was already a multi-instrumentalist: he played clarinet, baritone horn and trombone as part of the jazz band, and worked on his vocal skills as part of the all county choir. Soon, his list of instruments would grow to include piano, ukulele and even the Cuatro Venezolano. (This last instrument is a traditional Venezuelan instrument, which Alex learned while studying abroad.) For his higher education, Alex earned several music scholarships and headed to SUNY New Paltz, where he earned his Bachelor's Degree in Contemporary Music with a concentration in Jazz Guitar, as well as a Bachelor's Degree in Spanish. While at SUNY, he also intensely studied the piano, and took educational courses that covered topics from pedagogy to educational philosophy. Alex also honed his teaching skills as a tutor. After completing his degree, Alex joined the Reggae/Ska/Calypso band The Big Takeover and toured the Northeast with appearances at the Bearsville Theatre, Pond Fest, and New York's Bowery Elecctric. In addition to performing, Alex enjoys working on his own compositions, and exploring recording technology. His latest project is an album of original songs. Alex teaches guitar, piano, and songwriting for the school.
Garrett is no stranger to a piano lessons. In addition to his own start with music theater and piano instruction, he has been teaching private piano and voice lessons for over seven years. Most notably, he is a teaching artist with Opera Philadelphia. Through this program, Garrett has created curriculum and brought classical music (specifically opera) to over 50 Philadelphia area schools. In his work there, Garrett has witnessed the power music has to help young people process emotions, grow, and work toward a stronger future...whether in the music industry or life. Garrett credits his own music education with his passion for teaching others. Young Garrett enthusiastically joined the musical theatre program in middle school. At 6' 4", he typically landed performance roles like- 3rd tree from the left. Taking on private piano and voice lessons, Garrett's hard work and determination quickly paid off. Before long he was featured in lead roles for productions like Sweeney Todd. Graduating high school a year early, Garrett headed to the Eastman School of Music with a full-tuition scholarship where he earned his Bachelors of Music in Vocal Performance. Over the years, he has earned major roles in performances with Centennial Theatre, Opera Saratoga, Temple University, Seagle Music Colony, and more. He has been a member of ensembles with Curtis Opera Institute and Opera Philadelphia. Throughout all of his experiences, Garrett has explored music theatre, jazz, pop, and operatic vocal styles. He is a lifelong learner and consistently takes on new challenges like learning German while spending a summer in Germany. While not quite stage ready, Garrett enjoys exploring the guitar and ukulele! When not teaching, he can be found cultivating an active lifestyle in nature with his dog, Remington, by his side. Garrett teaches voice and piano for the school.
Passionate is the word to best describe Mia and it applies to not only her interest in sustainable agriculture but also music. Overcome with the joy and satisfaction that music brought her, young Mia fell in love with the piano at age 11. Mia has collected nearly a decade of private piano lessons- with bit of voice tutoring as well. She quickly found she had a flare for classical, pop/rock, and liturgical styles. After a high-achieving high school career in Lancaster, Mia went on to study Sustainable Agriculture at Messiah College where she was a member of the honors program and graduated Magna Cum Laude. During her undergrad, Mia volunteered as head coach for the renowned Girls on the Run program. The program combines self esteem development with cross country running for elementary and middle school aged girls. Through this experience, Mia recognized her desire to inspire and nurture strength in this demographic through a similarly positive and affirming music education experience. Mia has earned the Superior Plus rating through the American Guild of Piano Teachers and brings her piano expertise and expressive qualities to her students. Mia's other interests are fair food access, charcoal drawing, and rock climbing. Mia teaches piano for the school.
Katie - voice, piano, guitar, songwriting
From a young age, Katie was passionate about music. Throughout her early schooling, she participated in choral competitions and festivals and won accolades at the regional, state, and national level – including the "Heritage Festival Outstanding Soloist: Maestro Award" and "Outstanding Soloist in American High School Honors Choir." Her hard work and dedication led to opportunities like singing with the American High-School Honors Choir in New York's famous Carnegie Hall. Katie also took to the piano, which furthered her musicianship and created even more musical opportunities. After high school, Katie headed to the prestigious University of North Carolina School of The Arts. There she studied privately as an operatic soprano for almost three years, furthered her studies on piano, and performed in numerous concerts and master-classes. Katie loves working one on one with her students, sharing her knowledge of musical theatre, rock, pop, and classical genres. Katie teaches voice, piano, guitar, and songwriting for the school.
Ryan's earliest musical memories include playing with instruments in his kindergarten music class, listening to his mom belt Whitney Houston classics, and begging his pianist grandmother to play Phantom of the Opera "just one more time." Young Ryan's interest in music led to parts in his school's productions of Oliver, Peter Pan and The Wiz, as well as piano and voice lessons to build on his technique and knowledge. For college, he headed to Westminster Choir College and was quickly accepted into the prestigious "Williamson Voices" choir under Dr. James Jordan. Ignited by the creativity he saw in his peers, Ryan and an ambitious cohort reincarnated a student-run musical theater program called the Westminster Players. This new program, with Ryan at the helm, had a string of successful productions including "Nine," "Bloody Bloody Andrew Jackson," and "Sweeney Todd." While earning his music degree, he was able to perform with the Philadelphia Orchestra, New York Philharmonic, Simon Bolivar Youth Orchestra, and Berlin Philharmonic. After graduating, it was clear the director bug had bitten, and he has continued his directing ventures as the Music Director for a Philadelphia area high school. Most recently, he has overseen the production of Dogfight, Elf Jr. and Newsies. Ryan teaches piano and voice for the school.
Curtis - guitar, piano, voice
Curtis's musical resume – and the list of instruments he can play – is long. Although he's been humming along to Mozart since his toddler years, his first official music lessons began with piano instruction starting at age seven. Within a few years, he was adding violin and saxaphone studies, then clarinet, bass drum, bassoon, and guitar. (More recently, he's also picked up the bass and ukulele.) It's no surprise that Curtis chose to study music in college; he attended Virginia Commonwealth University where he graduated Magna Cum Laude with a degree in Music with a minor in Creative Writing. While there, he was a member or the honors society and earned a place on the dean's list. Curtis is also an experienced teacher: he taught private music lessons at a school in Ashburn, Virginia and has taught group classes on voice, piano and guitar. Adapting his teaching techniques to cater to each student's needs, Curtis is passionate about igniting a musical spirit in everyone he works with. Taking his studies even further, he is currently completing his Master's Degree in Music Therapy at Temple University. Curtis's performance resume is also impressive: he has been a member of various pop and rock bands, toured with acts like Those Manic Seas and appeared at the acclaimed SXSW Music Festival in Austin, Texas. Currently, he's enjoying "finding ways to play multiple instruments simultaneously as a one man band." Curtis teaches guitar, piano, and voice for the school.
Long before earning her Master of Music degree, or becoming an award winning vocalist, Tiffany was a toddler in love with music (specifically, the Wizard of Oz). She didn't wait long to dig into her passion – by elementary school she was performing in several choirs, taking piano lessons, and learning the double bass with her school orchestra. She was even able to consider herself a touring musician through her work in the elite professional children's choir, Kinderchor at Otterbein. Throughout high school, Tiffany continued to enjoy playing piano and participating in vocal and instrumental ensembles. She also used music as a way to give back, spending her summers as a volunteer performer at the local nursing home. For her higher education, Tiffany headed to Ohio University where she received her Bachelor of Music Degree and earned several scholarships for music and voice. She was also awarded the honor of performing the National Anthem for her graduation ceremony. Her musical education did not end there; Tiffany headed to Texas Tech University to receive her Master of Music degree, once again earning several scholarships for her music and vocal talents. During her undergraduate and graduate studies, she also built her teaching skills by taking pedagogy classes, completing a Teaching Assistantship and being a rehearsal leader. Tiffany continued performing through college and beyond, garnering key roles in several regional theater productions. When not performing or teaching, Tiffany loves spending time in nature and making her own soaps. Tiffany teaches piano and voice for the school.
As a successful musician with an entrepreneurial streak, Daniel's musical experiences range from the production of his own independent electronic music to running his own piano studio right out of high school to being a vital "behind the scenes" assistant at the Philadelphia Folk Festival. Daniel's musical path began in grade school with vocal performances and flute lessons, eventually transitioning to classical piano studies at The Conservatory for Music and Dance. Daniel joined the One Voice Handbell Choir and toured with them for 5 years, including international performances in Germany and Scotland. He received his associates degree in music, focusing on piano, choir, composition, and applications of electronic music before transferring to The University of the Arts for their newly formed Music Business, Entrepreneurship, and Technology degree program. There, Daniel studied composition, music theory, music history, recording technology, artist management, venue management and more. Upon the conclusion of his cum laude college career, he earned an internship at the Philadelphia Folksong Society assisting in the coordination of the Philadelphia Folk Festival. His work on the festival was so valued that he was invited back by the executive director the following year. Upon graduating, Daniel produced his first album titled Philometor Beat. This experience sparked his love for electronic music which he now produces independently as well as collaboratively with other labels including Sunset Grid, Holloway Tapes, and Virtua 94. When he's not teaching and producing music, Daniel works as the Editor-in-Chief of Japanese culture newsroom, theOtaku.com. Daniel teaches piano for the school.
Sam - piano, guitar, drums, cello, songwriting
Sam is an accomplished professional singer-songwriter and performer who can be found frequently on stages throughout the Northeast. His family was first to observe his need for creative expression via his persistent tinkering with the family piano, and had signed him up for piano lessons by the age of five. Sam continued his piano studies for years, picking up the cello later in grade school and joining the York Junior Symphony Orchestra just a few years later. He soon added guitar, bass, and drums to his growing instrumental resume. After getting his hands on some basic recording equipment, Sam began songwriting and arranging by overdubbing all of the parts of his songs, a process he still uses professionally to this day. When time came for college, Sam pursued his creative passion in a different way, earning his degree from La Salle University in Creative Writing. He has several hundred live performances under his belt as a front man, backing player and solo musician. Sam has opened for acts like Spiral Stairs (of Pavement), Hamish Kilgour (The Clean), J. Roddy Walston and the Business, Kingsfoil and more. He continues to release new original music and performs solo and full-band concerts in Philadelphia and New York City. When he's not on stage, Sam is a teaching assistant at the HMS School for Children with Cerebral Palsy. He loves hiking and gardening with his wife by his side. Sam teaches piano, guitar, drums, cello, and songwriting for the school.
Peyton - piano, voice, guitar, ukulele, songwriting
As a Temple University President's Scholar, Peyton is making the most of her education with a double major in Music Therapy and Neuroscience. (Peyton studies Systems, Behavior and Plasticity with an interest in translational neurologic music therapy research.) She jokes that her interest in music began in utero – with a piano accompanist mother, she was surrounded by music while before she was born and throughout her childhood. Peyton pursued voice and piano lessons in elementary school, and could often be found teaching herself her favorite songs. She continued to add to her musical skillset, focusing on guitar and musical theater in high school, then adding ukulele and even a bit of mandolin. She has college-level training in jazz piano, classical voice, and pop guitar. Peyton is also a member of the elite Temple University Concert Choir. She is a research assistant in the Cognitive Neuroscience Lab as well as a music therapy intern utilizing music stimuli to help patients reach their individualized goals. Peyton is an experienced educator, with several years experience providing private lessons to students of all ages and additional training through her music therapy studies. When she's not teaching, Peyton indulges her entrepreneurial side by selling her handmade embroidery wares on Etsy. Peyton teaches piano, voice, guitar, ukulele, and songwriting for the school.
Sarah - piano, guitar, voice
Sarah began her piano studies at just six years old, and from there she says her "interest in classical music began to grow and hasn't stopped since." She studied piano consistently and passionately throughout her entire youth, and was quick to join in on any musical experience offered at school or in her community. In elementary school, she picked up the viola and joined the symphony orchestra. She was the lead pianist for the jazz ensemble, the assistant conductor of her middle school's pit orchestra, keyboardist for her High School's house band and multi-year attendee of the competitive Westminster College Choir Summer Piano Intensive. After graduating from high school and completing her thirteen years of piano study with her private teacher, Sarah was accepted into Oberlin College's Women's Chorale and began earning her degree in Musical Studies and taking piano lessons from the highly prestigious Oberlin Conservatory. Later, she shifted her focus to Music Therapy and transferred to Temple University's Boyer College of Music and Dance. After a single semester at Temple, she was inducted into the prestigious Pi Kappa Lambda music honor society by special faculty invitation based on her impressive class ranking. Sarah's desire to use music to help people also earned her the ASTERA Music Award from the ASTERA Foundation, which is reserved for individuals demonstrating excellence in the study of piano while striving use their musical skills to make a difference in their community. During her summers, Sarah taught in the music program at Rama Day Camp where she was able to work with a diverse group of students as a music specialist. When she's not hitting the books, Sarah co-directs a campus acapella group. Sarah spends her free time exploring her newfound love of pop music writing, and seeing her favorite artists, Ingrid Michaelson and Tori Kelly, in concert. (She's seen them both more times than she can count!) Sarah teaches piano, guitar, and voice for the school.
Jonathan - piano, drums, guitar, ukulele, songwriting
Since earning his master's degree in education from the prestigious University of Pennsylvania, Jonathan has nurtured his dual loves of music and education as both a local performer and public school math and science educator. Jonathan's passion for music started early; brought up on the Beatles, he began piano lessons at age 4, intent on getting the skills needed to write his own songs. After several years of studying ear training, music theory, classical music and jazz, Jonathan was officially able to call himself a songwriter by the fifth grade. (Three years ahead of Paul McCartney's timeline, for the record.) Spurred on by his success, he remained dedicated to lessons and even added percussion lessons where he explored rock and latin beats. Eager to collaborate, Jonathan joined both the concert and jazz bands in high school, as well as a community gamelan (Indonesian percussion) ensemble. Jonathan's undergrad education was of Ivy League variety as well – he attended Brown University as a student of Human Biology. While there, he continued to pursue music by taking courses in songwriting and composition. Jonathan continues his musical studies to this day with lessons on the upright bass. He also plays drums for an indie rock band, South on Sunday, as well as piano for a jazz combo called Feeld Day. When he's not composing music and being a rockstar musical mentor, you'll find Jonathan coaching a robotics club and creating stop-motion animation videos. Jonathan teaches piano, drums, guitar, and songwriting for the school.
Zephyr - piano, saxophone
Zephyr considers himself a "lifelong student of music" who began with piano at just four years old. At seven, he announced his intention to play the saxophone, which he promptly began pursuing and continued to study through college. Zephyr has performed throughout the region on both instruments, primarily with the Nakomi band – a traditional African and Highlife ensemble he co-founded in his teens in Upstate New York. He studied music seriously, attending the prestigious Summer Five Week Program at Boston's Berklee College of Music, as well as both the Skidmore and Proctors Summer Jazz Institutes. For his higher education, Zephyr graduated from Temple University with a degree in Jazz Alto Saxophone Performance. While there, he had the unique privilege to study piano and sax for all four years with some of the best musicians in their field. In 2016, Zephyr studied abroad at The Conservatorium van Amsterdam in the Netherlands where he "learned to speak beginning level Dutch, made friends from around the globe, and soaked up the culture." He is passionate about music composition and interested in a wide variety of musical genres, including jazz, classical, funk and soul. While Zephyr spends a large portion of his time on music, he also loves to cook gourmet meals, travel, and plan his next adventure in the streets of Philadelphia. He teaches piano and saxophone for the school.
Chris - guitar, piano, songwriting
Long before graduating from Boston's renowned Berklee College of Music or learning his way around a recording studio, Chris began his musical career as a young piano student. After years of developing his piano technique, he went on to explore drums, saxophone, clarinet, and guitar. His passion and skill for guitar earned him a spot in a competitive jazz ensemble, and led him to the stages of the Rock and Roll Hall of Fame, Savannah Music Festival, and the Disney Festival of the Arts. Chris went on to earn scholarships to both University of the Arts and Berklee College of Music. Opting for Berklee, he majored in Electronic Production and Sound Design, became versed in programs like Pro Tools, Ableton, Logic and more, and landed a coveted internship with WXPN/World Cafe. Chris also has extensive music teaching experience – he had a roster of over 50 piano and guitar students at several Massachusetts music schools, and was an education intern at a Montessori school. When he's not teaching, Chris enjoys writing and producing his own songs as well as exploring rock, blues, jazz, pop, indie, funk, R&B, neo soul styles on his guitar. He lives to "geek out" and explore audio and video production for film and marketing. Chris teaches guitar, piano, and songwriting for the school.
Ryan - guitar, ukulele, bass, mandolin, drums, piano
Whether he's rock climbing or rocking out, Ryan is always driven to explore his creativity and sense of adventure. As a child, the highlight of any family gathering was the impromptu chord lesson he would receive from his guitarist uncle. These informal lessons quickly led to formal ones, and Ryan received private instruction on piano, drums and bass guitar. Before long (and before he could even drive), Ryan was playing in his first bands, which further fueled his passion for music and prompted him to take classes in music theory and production. When it came time for college, Ryan attended St. Lawrence University, where he earned his B.A. in Philosophy with a minor in Italian Studies. When he wasn't hitting the books as a member of multiple honor societies, Ryan continued to pursue music by playing bass and keyboard in the University's funk band and expanding his skillset to include instruments like ukulele and mandolin. After earning the Kathryn Fraser Mackay Endowed Prize in Philosophy and graduating magna cum laude, he made the move to Philadelphia to focus on his love of songwriting and performing. Currently, Ryan is the frontman of the West Philadelphia band, Brian At Work, and also performs regularly with the group Very Bad Vibes. When not composing songs, he can be found composing his own delicious recipes in the kitchen. He teaches guitar, ukulele, bass, mandolin, drums, and piano for the school.
Sarah - piano, guitar, voice, songwriting
Conducting her own high school choir and leading classes at the renowned Huntington Center for the Performing Arts are just two examples of Sarah's dedication and natural leadership in her musical career. Her love of music has been lifelong – her parents proudly attest that she was singing as soon as she could speak. At just eight years old, Sarah was already a dedicated voice student, and over time added studies in violin, guitar, ukelele, and piano. An active member and leader of her school choir, she was selected to intern for the choir director. This sparked a passion for music education that she would follow to college at the prestigious Frost School of Music at the University of Miami. There, she earned her bachelor's degree in Music Education while simultaneously volunteering at the Frost Preparatory Program as a piano and voice instructor. Continuing to let her leadership skills shine, Sarah spent two years as the music director for The 18th Notes, a Jewish a cappella group at the University of Miami and was awarded the Sword of Honor for outstanding leadership in her women's music fraternity. Desiring to share her love of music with youth, Sarah worked as a Music Specialist at Sunrise Day Camp, the world's first free full-summer day camp for children with cancer and their siblings. Here she built curriculum for students ages 3-18, taught guitar, and provided musical therapy services. Currently, Sarah is attending Temple University's Boyer College of Music in pursuit of her Master's of Music degree in Music Therapy. When not studying or playing music, Sarah is a fashion enthusiast – ask her about her quirky shoe collection. She teaches guitar, piano, voice, and songwriting for the school.
Javiera's diverse experience as an accomplished musician, dedicated culinary student and successful businesswoman demonstrate the level of commitment and talent that she brings to all her endeavors. Growing up in Chile with a professional pianist for a grandmother, Javiera was inspired to take on the instrument herself. She began her studies at just seven years old at the Escuela Moderna de Musica, Chile's renowned Professional Music Institute for children. Javiera also studied musical theory, participated in her middle school and high school orchestras, and was a finalist in the "Concurso de Piano Claudio Arrau," a national piano competition. She went on to earn a bachelor's degree in business and her master's in finance with distinction from the prestigious Universidad Adolfo Ibanez. Nine years of classical music training and two degrees later, Javiera continued to strive for more education and experience in the arts. After nearly a decade of working in finance and small business while nurturing her passion for the piano, she won a scholarship to the International Culinary Center in New York, where she earned her diploma in The Art of International Bread Baking and graduated at the top of her class. Using music, art, and cuisine as her guides, Javiera loves to travel and explore other cultures. As a lifelong student, she is currently continuing her master level piano training and has her heart set on joining a local band. Javiera loves sharing her enthusiasm with others, and teaches piano for the school.
April - voice, piano, guitar, ukulele, songwriting
April has been writing songs since she was six years old and singing for as long as she can remember. In her youth, she studied piano, guitar and voice, and was also active in school choirs, music classes and her first few rock bands. When it came time for college, April earned a spot at Boston's elite Berklee College of Music, where she majored in Professional Music and minored in Performance Poetry. There, she took classes in songwriting, harmony, ear training, pedagogy, music therapy and more, and was a student officer of ReVerb Poets, the Berklee Performance Poetry Club. She also had the chance to study stage performance techniques with Livingston Taylor (brother to James, and a successful musician in his own right) and to work closely with slam poets and other creative and musical experts. April also has extensive teaching experience: she taught private lessons for three years at the Rochester Academy of Music and Arts in voice, guitar, piano, ukulele, and songwriting. She has also spent seven summers at Appel Farm Arts and Music Camp, teaching classes from Rock Band to Songwriting. Currently, April performs throughout the region in a songwriting duo with her husband, and as part of the band Scavengers Like Me. She is still an active learner and recently tried her hand (hands, actually) at drumming. When not performing, learning or teaching, she enjoys traveling and working on the Young Adult novel she is currently writing. April teaches voice, piano, guitar, ukulele and songwriting for the school.
David - piano, guitar, voice, ukulele, songwriting
David's lifelong love of music started early, largely influenced by his guitar-wielding, songwriting, puppeteering uncle (who boasted a true hat trick of "cool uncle skills"). David tried his own hand at singing and writing, which led to his first guitar lessons. Over the years, he became a serious guitar student, attending Berklee College of Music's acclaimed summer Program for high schoolers, and beginning lessons with a Yale music grad and classical/jazz guitar player. It was from this teacher, who was also a songwriter and music producer, that David learned that "being a classical musician and being a pop songwriter were not mutually exclusive end goals." For college, David continued his music studies at Eastman School of Music, where he earned both his bachelor's and master's degrees in Guitar Performance and Literature. At Eastman, he expanded his studies to multiple instruments, received several merit scholarships, and participated in ensembles that ranged from the classical Eastman Collegium Musicum (where he played renaissance lute!) to jazz groups and the African Mbira ensemble. It was also here that David honed his teaching skills, studying pedagogy and working as a teaching assistant for a notable rock historian and department chair. He applied these skills by teaching private lessons on guitar, bass, piano, ukulele, and voice, and also at Appel Farm Arts Camp, where he was a rock band instructor and ensemble coach. Currently, David performs throughout the region in a songwriting duo with his wife, and as part of the band Scavengers Like Me. He teaches guitar, voice, ukulele, songwriting and piano for the school.
MeiLi - guitar, voice, ukulele, songwriting, piano
MeiLi has loved music and singing for as long as she can remember and was improvising her own songs at just five years old. Growing up, she studied both piano and voice, was a member of the school choir, and participated in musical theater. Later, she added guitar to her musical skills, which led her to discover a love for songwriting that she continues to nurture. After receiving a Merit Scholarship for academic excellence, MeiLi attended Ohio's prestigious Oberlin College. While she did not major in music, her love of music and songwriting was very much a part of her education – she continued to develop her instrumental and songwriting skills and taught a peer-led songwriting workshop. MeiLi's experience as a teacher is both extensive and eclectic. She has taught voice and coached bands at a New York City rock camp, worked as a high school art teacher in Brooklyn, and served as a dance teacher at performing arts camps and after school programs. Additionally, she received her yoga teaching certification at Solaluna Yoga in Ohio and developed a class specifically for musicians dealing with pain or tension associated with playing. Currently, MeiLi plays in several bands and is working on two upcoming albums. Outside of music, she is also a visual artist, a dancer, and a writer. MeiLi teaches guitar, voice, ukulele, songwriting and piano for the school.
Rachel – piano, voice, musical theater
Rachel's music-minded parents signed her up for her first piano lessons at age 4, and she continued her studies all the way through college. Along the way, she also began to study voice seriously, taking lessons with university-level instructors and performing in elite choirs of both classical and jazz styles. By the end of high school, Rachel had collected an impressive number of accolades – from winning the Washington State Suzuki Competition on piano to several state titles with her vocal groups. For college, she kept her focus on music and earned her Bachelor of the Arts degree in Music from Thomas Edison State University. She is also currently working toward her Master of Music Degree from Temple University. In addition to her piano and vocal accomplishments, Rachel boasts an impressive musical theater resume. To date she has performed in over 20 musical theater and opera productions, with roles such as Princess Jasmine in Aladdin, Widow Corney in Oliver!, and Giannetta in Gilbert and Sullivan's The Gondoliers. Her teaching experience is equally notable: Rachel has taught private piano and voice for over seven years, with students ranging in age from four to seventy-four. She has also served as the music director for several musical theater productions. When not studying, making or teaching music, Rachel enjoys baking, British TV shows, and her cat Tolkien. She teaches piano, voice and musical theater for the school.
Kelsey - piano, guitar, saxophone, voice
Kelsey is a multi-instrumentalist, trained educator, and active member of Philly's DIY music scene. She "can't remember a time when she wasn't interested in music," and began her musical studies with piano lessons at age six, adding saxophone lessons in grade school. Some of her most formative musical experiences happened at Camp Louise in Shickshinny, PA, which she attended yearly. It was here that she learned how to play guitar and bass, and that she first sang in front of a crowd. Kelsey's positive musical experiences at Camp Louise led her to pursue a career in music education, earning her Bachelor's Degree in Music Ed from West Chester University, where she graduated cum laude and made the dean's list. At WCU, Kelsey added to her already extensive list of instruments; she learned and taught flute, clarinet, trumpet, trombone, euphonium, French horn, and more. She also continued to study and play saxophone and piano, and participated in numerous music clubs, including the school's professional music fraternity for women. Kelsey is a very active in Philadelphia's music community. She has been performing in original rock bands since she was 16 years old, and has opened shows for Hall of Fame nominees, punk legends, and even a cast member of a hit TV show (Creed Bratton of "The Office"). Currently, she performs throughout the Philadelphia area as a solo singer/songwriter and as the vocalist/guitarist/songwriter for a rock band. Kelsey aims to giver all of her students "the tools that they need to share what they love to do with the world." She teaches piano, guitar, saxophone and voice for the school.
Esther - violin, voice, ukulele, piano
At four years old, Esther traveled to New York City, and become enamored with the city's street musicians. She began violin lessons the next year and "hasn't stopped playing since." After hearing her sing at a concert, a local music teacher enthusiastically recruited Esther as a student, and added piano and vocal studies to her musical pursuits. In high school, Esther continued private lessons and participated in the Chesapeake Youth Symphony Orchestra and jazz band, while also taking classes at a nearby community college. Because of this, she succeeded at the ambitious goal of graduating high school and receiving her associates degree in music within the very same year. From there, Esther transferred to Temple's Boyer College of Music with a music and academic scholarship, where she is currently working toward finishing her Bachelor of Music Degree. Over the course of her studies, Esther has sung at venues like the Peabody Institute of Music and Curtis Institute of Music, and she has taught music privately for several years. She enjoys teaching and playing classical, jazz, pop, and more, and also includes ukulele in her roster of instruments. When not making music, Esther can be found knitting, reading and cooking, and is a dedicated animal lover (with a soft spot for her pet lizard, Papageno). Esther teaches violin, piano and voice for the school.
Matt - piano, guitar, voice, Songwriting
Matt credits his mom for "sneakily forming his musical taste" as a toddler by exposing him to acts like the Beatles, Queen, Billy Joel, and Elton John. He was quickly hooked on music, and his parents signed him up for guitar and piano lessons. However, his musical studies truly fell into place when he discovered songwriting. A passion for writing, matched with encouragement from his peers, led Matt to focus on guitar technique and begin voice lessons. Matt auditioned for and was accepted into the prestigious Berklee College of Music, where he strengthened his skills in general musicianship, vocal technique, songwriting fundamentals, ear training, composition techniques, and sight reading. From there, he moved to Philadelphia where he practiced furiously, gigged frequently, and completed college at Temple's Boyer College of Music with degree in Music Production. Matt has performed at notable venues throughout the Northeast with several bands, including his current project Man Illuminated, and operates his own recording studio. In addition to guitar and voice, Matt plays piano and enjoys tinkering with keyboard synths and soldering his own DIY guitar pedals. He also enjoys woodworking and his two fantastic cats. Matt teaches piano, guitar, voice and songwriting for the school.
Gabe - piano, violin, guitar, songwriting
Gabe began violin lessons at a young age, and (after his pro-jazz-drummer neighbor gave him his first jazz albums) later added jazz guitar to his musical studies. He grew his skills in both areas while also exploring folk guitar styles and learning piano by ear. In high school, he was accepted into JazzU, a competitive program in St. Louis that "places talented middle and high school musicians in small jazz combos, which meet weekly." The program also gave Gabe free admission to shows at the city's premiere jazz club, where he regularly saw some of the country's greatest musicians. During this time, he also participated in musicals, and played guitar and violin in bands of various genres. For college, Gabe headed to Temple's Boyer College of Music, where he received a presidential scholarship and graduated cum laude with a degree in jazz performance. His teaching experience includes training in the WeBop program (a jazz program for kids), the "Every Child Can" music program, and substitute teaching at local schools in subjects ranging from rock band to guitar, piano and drums. Gabe is an active performing musician, and is the member of four local bands, including the lighthearted (and playfully titled) group Sushi From the Future. He also performs in and wrote the music for a play appearing in the upcoming Philly Fringe Festival. In addition to violin and guitar, Gabe enjoys playing piano, mandolin, bass and drums. When not making music, he enjoys eating, biking, running, and exploring Philadelphia. Gabe teaches piano, violin, guitar and songwriting for the school.
Jared - piano, voice, songwriting
Jared's journey with music began like that of many of our own students: he attended music circle classes with his mother as a two year-old, and then started private piano lessons at six. His love of music was clear from the very start, and he continued to study music seriously through college, including ten years of classical piano studies with Dorothy Poor (a student of Hungarian composer Ernst von Dohnányi), and then Jazz piano lessons with Philadelphia educators and artists Jimmy Amadie and Orrin Evans. For college, Jared headed to business school, where he acted as music director for an all-male a capella group. It wasn't long, though, before his educational focus shifted back to music, and he transferred to Boston's acclaimed Berklee College of Music. (He managed to win the 2015 Contemporary A Capella Award for Best Song – the "Grammies" of a capella music – first, however.) Jared discovered his passion for teaching music during his educational experiences at Berklee, and through teaching voice and piano at his own private studio. In addition to teaching, Jared is an active performer and songwriter. He runs his own record label and publishing company affiliated with Broadcast Music International, and performs often locally. When not teaching, he can likely be found writing and recording. Jared teaches piano, voice and songwriting for the school.
Emily - piano, songwriting
Emily received her Bachelor of Music Degree from Yale University, her Masters in Composition from USC, and a post-grad Diploma in Composition from the Curtis Institute of Music. Music has been a lifelong passion for Emily: she began piano as a young child, and added trumpet studies, vocal ensembles and guitar along the way. She discovered her love for composing early as well, after writing a short opera (starring a field mouse) in the third grade, and she has been creating music ever since. Her musical abilities landed her a spot at Interlochen Arts Academy, an exclusive summer arts program that boasts notable alumni like Josh Groban and Norah Jones. From here, Emily headed to Yale University, where she received the Louis Sudler Prize for most outstanding graduate and graduated Cum Laude. Next, Emily received a full scholarship and teaching assistantship to University of Southern California, where she earned her masters degree and received the Outstanding Graduate in Composition Award. Emily boasts a range of teaching experience: she taught in the theory department at USC, at Curtis Summerfest, and with those in need through Project HOME. She has had original works played by several of the nations top orchestras, but her musical experiences extend beyond composition – she also plays guitar and sings, and performed internationally with her college a cappella group. When not studying and making music, Emily fosters dogs. She teaches piano and songwriting for the school.
Heather's childhood taught her much about both the art and science of music: her mother is an otolaryngologist and voice specialist at the Medical University in Charleston, and both her parents are music lovers who exposed her to a variety of recordings and performances from a very young age. This was supplemented by formal music lessons in both piano and voice. Heather began singing in choirs at age 5, taking piano lessons at the Charleston Academy of Music at age 8, and added voice lessons a few years later. (Her musical path took a unique detour when Heather pursued figure skating for a short time.) A dedicated music student, Heather attended Charleston County School of the Arts, a competitive arts magnet high school, as a voice major. While there, she ranked and participated in multiple All-State Choirs and was awarded the Charleston Symphony Orchestra College Scholarship and the Charleston Music Club Award. Both scholarships were audition-based awards, given to exceptional academic and music students who planned to continue their music studies in college. From there, she headed to Westminster Choir College in Princeton, NJ, where she graduated Magna Cum Laude with a Bachelor of Music degree in Music Education and obtained her teacher certification. Heather is no stranger to teaching music: in addition to her music education studies, she gained musical theater coaching experience at Once Upon A Ballet's Musical Theatre Center, and has also privately taught piano. Heather enjoys performing, and has had the chance to grace stages at Oxford University and Lincoln Center, among others. When not teaching, Heather actively participates in regional musical theater. She teaches voice and piano for the school.
Alex - guitar, bass, voice, piano, drums, songwriting
Alex first showed a knack for music a very young age, and worked on his rhythmic skills by fashioning drum sets out of whatever pots, pans and stools he could find around the house. In elementary school, he graduated from cookware to an actual instrument when he joined the school's percussion section, and not long after that, picked up one of the guitars that were "readily available" in his musical household. As he progressed through middle and high school, Alex built his skills on both percussion and guitar, adding hip/hop drums styles to his skill set, and collaborating with his brother in a band. While he initially intended on majoring in History at college, his love of music came calling – loudly. Alex graduated with his Associates Degree in Music from Montgomery County Community College, where he studied music theory, songwriting, choral arranging, piano, guitar and voice. He has supplemented these studies with classes at Temple's Boyer College of Music, studying in voice, piano, and additional theory. Alex's teaching experience includes early childhood education courses, classroom shadowing, and private music instruction on guitar, piano and bass. When not teaching, Alex is a member of The Loop, one of Philly and South Jersey's busiest cover bands, and releases his own music as "Chop Robinson." Alex teaches guitar, bass, voice, piano, drums and songwriting for the school.
Katie is an experienced music educator who boasts degrees in both Music Education and Music Therapy from Immaculata University, as well as fifteen years of teaching experience on piano, guitar and French horn. She is a lifelong musician – she began studying piano at a young age, and soon added French horn to her studies after an orchestral performance of "Peter and the Wolf" left her fascinated with the instrument. She was classically trained on both piano and horn, and continued to study both instruments while attending Immaculata, adding studies on the guitar along the way. After graduating, Katie worked in liturgical, therapeutic, and educational settings. She applied her music therapy degree at Massachusetts Hospital School, Easter Seals of Philadelphia, and the Music School of Delaware with programs for children with special needs. She taught music to preschool through middle school-aged children at parochial schools in Delaware and Chester Counties, and also became a group music instructor for the very young. She currently serves as a youth and adult choir director. In addition to teaching music, she has also performed with local municipal bands, presents music programs at her local library, and plays organ for her church. When not teaching, Katie enjoys spending time with her family and learning to play the mandolin. She teaches piano and guitar for the school.
Drew - piano, guitar, bass, songwriting
Drew's pursuit of music has been life-long: he was singing before he could speak, studying piano by six years old, and a member of his first rock band by the age of twelve. His piano studies continued through high school, and in elementary school he also took up the saxophone and joined the school band. Drew continued to play sax in ensembles through high school, including the concert band and marching band. Around this time, he became fascinated by rock music and took up the guitar and bass, joining the school's pit orchestra and jazz band on the latter instrument. He continued his musical pursuits in college, majoring in Audio Production (and minoring in Physics) at Washington DC's American University. While at AU, Drew performed with the American University Jazz Orchestra, worked as a college radio DJ, and interned for NPR Music and SiriusXM's The Loft. Upon graduating, he taught youth music and private lessons in the DC area. Drew has extensive live performance experience, both on the stage and behind the sound board; he has performed extensively with his band, Boon, at venues like the Rock and Roll Hotel, Mercury Lounge, and DC9. As a sound engineer, he has recorded and done live sound for notable acts like The Antlers, BadBadNotGood, Strand of Oaks and more. Drew is a self-proclaimed "huge audio nerd" and has an extensive collection of music gear, including keyboards, synths, guitar effect pedals, amps, and recording gear. When not teaching, he still enjoys performing, recording and mixing music. Drew teaches Piano, Guitar, Bass and Songwriting for the school.
Rachel grew up surrounded by music – her mother was a choir teacher and taught singing lessons from their home. As a result, Rachel spent most of her childhood singing, later adding cello and piano to her list of musical skills. In high school she began to pursue classical voice more seriously: studying with Eastman alumna Esther Kulp and Professor Katherine Johnson, a teacher and mentor she continues to work with. For her higher education, Rachel headed to Westminster Choir College in Princeton, NJ, where she was the recipient of the Rider Advantage Scholarship, made Dean's List every semester of her attendance, and graduated Magna Cum Laude with a B.A. in Music. While there, she also had the opportunity to frequent venues such as the Kimmel Center and Carnegie Hall with orchestras like the Philadelphia Orchestra, the Berlin Philharmonic, and the Vienna Philharmonic. Rachel teaches voice and piano in a variety of genres, and especially enjoys musical theatre, singer/songwriter/folk music, and audition prep. Currently, she is a part of the Philadelphia Symphonic Choir and is singing in the alto section of Haydn's Four Seasons with the Philadelphia Orchestra. When not teaching or performing, she enjoys exploring language and literature, and feels that they "both meld beautifully under the umbrella of music." Rachel teaches voice and piano for the school.
Jordan – violin, guitar, piano, banjo
Thanks to his professional banjo-playing father, Jordan grew up spending his summers at Bluegrass and Old Time music festivals. He began Suzuki violin lessons at the age of five, while also exploring and learning his father's collection of other instruments, including banjo, mandolin, and guitar. Jordan continued to study classical violin through high school, also taking private piano lessons, private guitar lessons and attending the Pennsylvania Academy of Music in Lancaster, PA. He continued to study and perform in ensembles while studying psychology at Temple and then Millersville University for his undergraduate degree, later receiving his Masters Degree in psychology from Villanova University. Throughout all of his studies, Jordan has been an active performer. He was awarded second place in the 2016 Freshgrass Fiddle Awards, and has taken high (often top) honors at the Appalachian String Band Music Festival's Band and Songwriting Contests several times. He currently performs as guitarist and singer for The Secondhand Suits and the Joe Hillman Band as well as his own solo and duo projects, and has performed in notable venues like Boston's Club Passim and Brooklyn's Pete's Candy Store. Jordan has worked with kids and taught music in many settings, including private instruction, volunteering with Music For Everyone, and teaching music to adolescents with behavioral problems. In his spare time, Jordan enjoys traveling to national parks, and being a Philly sports fan. He teaches violin, guitar, piano and banjo for the school.
JR's musical interests range from traditional (participating in choirs and working toward his music education certification) – to untraditional (creating remixes of video game music and releasing them online). His first introduction to music was as a choir participant in his youth. JR went on to become an active member of his school vocal groups, winning the Chester County Choral Society's Excellence in Vocal Performance Competition and participating in Chester County Voices Abroad. All of this led to Penn State University, where he participated in more ensembles, received the Bruce Trinkley Award for Artistry, and graduated with a Bachelor's Degree in Music. JR's musical studies aren't limited to voice he also taught himself piano in high school and refined those skills throughout his college career. When not practicing or performing, he enjoys composing and producing music, with projects ranging from film scores to video game soundtracks, concert music, electronic dance music, sound design, and recording. JR also enjoys performing, and a career highlight was singing with the Rolling Stones in the chorus for "You Can't Always Get What You Want" at Heinz Field in 2015. Over his career, JR has performed concert tours across Italy, Germany, France, Austria, Poland, the Czech Republic, Ireland, Scotland, Canada, Iceland, and Australia. JR is currently studying at West Chester University for his music education certification, and teaches voice and piano for the school.
Carolann – violin, guitar, ukelele, piano, voice
Carolann is no stranger to strings – whether they're guitar strings, ukulele strings, violin strings, piano strings, cello strings or even double bass strings. (And, actually, do vocal cords count too?) Carolann's first instrument was the guitar, which she received as a gift in elementary school, but it wasn't long before she was also participating in the school choir, taking voice lessons, studying viola, and playing in the school orchestra and jazz band. When it was time for college, she attended Susquehanna University and majored in Music with a Music Technology minor. There, Carolann participated in the string pedagogy program, teaching weekly seminars in addition to being paired with private students. All the while, Carolann continued to study viola, hone her guitar, piano and vocal skills, and teach group music classes. Her educational experience doesn't end there; she received her Masters of Education degree from Eastern University, was trained in The New Teacher Project's (TNTP) Teaching Fellows Program, and has taught in various school programs. A recent highlight was a stint at Community Academy of Philadelphia as a Creative Expression Teacher. Carolann brings her musical and educational knowledge to the Meridee Winters School of Music as a teacher on violin, guitar, viola, piano and ukulele.
Nikki – *Lead Teacher: piano, voice
Nikki's voice has taken her all over ­– in venues ranging from Carnegie Hall to the Rio Grande. Her journey started in Tennessee, though, where Nikki began piano lessons at a very young age. (Ever the eager toddler, a teacher agreed to take her on as soon as she could "count to five and tell black from white.") In elementary school, Nikki joined a community choir, and upon graduating from that started an a capella group with some industrious friends. She added private voice lessons to her studies, and continued to study both that and piano through college. For her undergraduate degree, Nikki received an academic scholarship to Union University in Jackson, TN where she earned her BA in Philosophy with a minor in Music and Honors Studies, graduating Summa Cum Laude. She has experience teaching both piano and voice, and is currently working on her music education certification at Eastern University. Nikki has performed in numerous choirs and operas throughout her life, was the female lead in Mozart's Bastienne and Bastianna, and even plays harp. When Nikki isn't making music, she enjoys hiking and camping (and could give you a few tips on how to build a yurt.) She teaches piano and voice for the school.
Inspiration comes in all forms, and for Peter it came from the jealousy of watching his peers learn piano. Luckily, it didn't take long for him to begin his own private lessons at the age of 8 and fall in love with playing music for its own sake. The piano has been part of his life ever since, as he continued lessons through college, learning classical technique, theory and musical composition along the way. Piano isn't Peter's only instrument – he also played trumpet and baritone with the band, jazz band, and orchestras in middle school and high school and was a member of his high school choir and Eastern University Choir. From Eastern, he had the opportunity to study abroad in Uganda, received an award for academic excellence, and graduated Summa Cum Laude. As a final senior hurrah, he successfully organized a vocal quartet to perform a self-composed piece titled As Kingfishers Catch Fire, based on a poem of the same name. These days, Peter keeps busy developing software for non-profits, playing piano his West Philadelphia church and baking (he especially enjoys sourdough bread). He teaches piano and voice for Meridee Winters.
Kaitlin – *Lead Teacher: piano, voice, ukulele
Kaitlin is a dedicated musician, as demonstrated by her Bachelor's degree in Music Education and Voice Performance from Westminster Choir College and her Master's of Music degree from the Cleveland Institute of Music. Her interest in playing and singing began in her youth, but the decision to pursue it as a career came while performing with the Texas All State Choir in High School. This led her to Westminster Choir College in Princeton, New Jersey, where she studied both voice and piano formally, and received a presidential scholarship. At the Cleveland Institute, she continued her studies, earning the Max Berman prize – the school's largest award for a vocalist, as well as trying her hand at stage-managing. Kaitlin is no stranger to teaching music; for the completion of her Music Education degree, she taught at New Hope High School and Middle School, teaching students grades 6-12. During this time she worked with a large number of choirs, as well as the middle school cast of Grease, and gave both class and private music instruction to students grades 6-12. Her other teaching experiences include teaching music as a volunteer at the Cleveland School of the Arts, the Albert C. Wagner Youth Correctional Facility, and at several elementary and middle schools. As a performer, she's landed some impressive roles, including Alice Ford in Verdi's Falstaff, Béatrice in Berlioz's Béatrice et Bénédict, Antonia in Les Contes du Hoffmann, and the title role in Handel's Alcina. Kaitlin works in the MW office as our faculty coordinator and teaches piano and voice for the school.
Tyler is a seasoned pianist and string musician whose lifelong love of music (along with an inspirational orchestra teacher) led him to pursue a degree in music education. He earned this degree at Chestnut College, where he also minored in special education, made the Dean's list, and was accepted into the Kappa Delta Epsilon honors society. While his primary instruments are violin and piano, he also boasts skills on the cello, viola and bass. In addition to his educational accomplishments, Tyler received recognition from the Westminster Choir College of Rider University for creating an original piano composition, and received a certificate of recognition for his violin performance at the sixteenth annual SEPCHE (Southeastern Pennsylvania Consortium for Higher Education) Honors Conference at Gwynedd Mercy University. His performance experiences range from classical to quirky – ranging from pit orchestras and the Chestnut Hill College string ensemble to a unique gig at Dorney Park's Halloween Haunt playing violin in a haunted quartet and "scaring the guests." Currently, Tyler performs in a duet known as Double Treble, a piano and violin duo, and is also a member of Sound Post, a contemporary and classical and the concert master for the Philadelphia Doctors Orchestra. In his spare time, Tyler is a film buff and dreams of playing in a symphony for movie soundtracks. Tyler teaches piano and violin for the school.
Jared - piano, guitar, bass, violin, cello
Jared first picked up the guitar in the 8th grade, and years of practice and self-instruction led him to advanced studies and a Music Education degree from West Chester University, and even to an opening spot for the hit band, Dawes. At West Chester, Jared studied not only guitar, but also aural skills, orchestral strings, advanced music theory, double bass and piano. He also performed with the West Chester University Classical Guitar Ensemble. Currently, he plays in an acoustic duo called Salient Roots. They play country, bluegrass and blues and are best known for their vocal harmonies. When not teaching, Jared is an avid woodworker, and has been teaching himself string instrument luthiery in his home wood shop. He teaches guitar, bass, piano, violin and cello for the school.
Logan – piano, drums, voice
Logan's resume reads a bit like a "Who's Who" of music and education. His musical accomplishments have included performing for the Queen of Jordan and opening for Oprah (the queen of talk), complemented by a degree from Princeton University. He grew up playing classical piano at the Oak Brook Academy of Music and Art in Illinois, and by his teen years was taking lessons with Chicago boogie-woogie/blues legend, Erwin Helfer and studying classical piano and composition with film composer Oscar Jasso. (Along the way he also took drum lessons, attended the Eastman School of Music Summer Jazz Program, and was hired for the Jazz Institute of Chicago's Jazz Ambassadors Program.) All of this hard work led him to Princeton University, where he graduated Summa Cum Laude with a degree in music and where he participated in numerous ensembles. Logan's musical adventures have taken him all over the world: he was chosen as one of four Americans high-schoolers to perform as part of a global arts conference in Amman, Jordan (performing for the aforementioned queen), he has toured Japan with a blues band and Estonia with a Princeton ensemble. His educational experience is equally global. He taught music lessons at the Unwind Center in Chennai, India and established a music program for "Give and Surf", a volunteer educational organization for indigenous and impoverished youth in Panama. In addition to music, Logan loves cartoons, chocolate and his giant orange tabby cat named Sophocles. He teaches piano, drums and voice for the school.
Rebekah - *Lead Teacher: voice, piano, guitar, musical theater
Rebekah fell in love with music and acting at a young age, and followed that passion as it led her through music lessons and school theater all the way to professional productions and spots on commercials and TV sitcoms. The musical leg of her journey began with piano lessons, later adding voice and flute. Rebekah also picked up the guitar so that she could sing and accompany herself. Her acting experience is extensive – she has worked for professional theaters in Denver, Dallas, Virginia and PA and toured as an MC with the Radio Disney Road Crew. Rebekah graduated summa cum laude from Abilene Christian University with a BFA in acting and musical theater. While there, she was a presidential scholar, received a theater scholarship and studied abroad in Uruguay. She is currently working on MS in Speech-Language Pathology at NYU with a focus in vocal health, vocal pathologies, and child development. While not teaching or performing, Rebekah loves to play with her cats, Mischief and Echo, and enjoys nature, biking, reading and painting. She is a lead teacher of voice, musical theater, piano and guitar.
David – *Lead Teacher: voice, piano, guitar
A born performer, David has graced the stage of many well-known Tri-State area theaters, including the Walnut Street Theater and the Arden Theater in Philadelphia and Candlelight Theater in Delaware. His stage credits have even taken him abroad to places like Edinburgh, Scotland and Beijing, China. David studied music throughout his youth – beginning with the saxophone and voice, and soon adding on the piano and the guitar. His love of music and the performing arts led him to Syracuse University, where he earned his BFA in Drama. (He also has extensive training in the Linklater voice method.) David has several years of music direction under his belt in various local school and music theater programs, and is currently serving as the music director for the Wolf Performing Arts Center. While his musical theater experience is extensive, David enjoys and teaches many genres, including jazz, rock, folk, classical and recording programs like Logic and MainStage. He is a lead teacher of piano, guitar and voice for the school.
Patrick – piano, composition, musical theater, vocal coaching
Patrick's musical path has led him everywhere from orchestra pits to rock battles – he recently accompanied two different groups for a battle of the bands, managing to snag both first and third place. In the musical theater realm, Patrick has graced the stage (and the orchestra pit) in many local theaters including the Media Theater, Lansdowne Celebration Theater and Hedgerow Theater. Patrick earned his Bachelor's of Music Degree from Hillsdale College, with a dual focus in both Piano Performance and Composition. He has also served as a substitute teacher for two local school districts, where he has had the chance to work with kids in grades K-12. Beyond the classroom, Patrick has also served as the musical director for two different children's theater camps with the Media Theater. He recently began focusing on a musical pursuit of a different variety – composing original music for video games. When he's not participating in a musical or competing on stage, Patrick loves reading, watching really good TV and movies, and hanging out with both two legged and four legged friends. (He has two dogs Abby, a Saint Bernard and Ernie a Mastiff.) Patrick teaches piano and voice for the school.
Nick - piano, guitar, bass
Nick's interest in music began during his elementary school commute, when he would sing along to old Motown and 50's songs on the radio. This interest led to guitar lessons, and later, the bass. His musical studies continued when he attended Bates College, where he earned a BA in Music, with Honors in Composition. By the time he completed his degree, he had already compiled almost 200 hours of student teaching in music as well as physical education classes. He later taught in smaller, private studios in Northeast Philadelphia and Washington, DC. In addition to private lessons, Nick has worked with kids, helping them form bands and prepare to compete in statewide "Battle of the Bands" performances. He currently plays in several ensembles in the Philadelphia area, earning the title of "Philly Band of the Year" at the 2012 Tri-State Indie Awards and performing at the Peach Music Festival, run by the iconic Allman Brothers. Nick has also toured with the Kalob Griffin Band and performed with a member of a popular funk-jazz group, Soulive. Nick loves to travel the US and explore the local flavor wherever he finds himself. Always looking to explore his neighborhood and discover new restaurants, he loves finding new foods that he never thought he would like.
David - piano, guitar, voice, bass, drums
David has always had a strong interest in music and art. After seeing the iconic performance of "Johnny B. Goode" in the film Back to the Future, he was inspired to pick up the guitar, and began lessons at 7 years old. David later took up percussion and bass and played in rock bands, concert bands, jazz bands, marching bands and choruses throughout school. Today David is a composer, educator, and multi-instrumentalist whose works have been performed in a variety of venues, from Bargemusic in Brooklyn, NY to the Hindemith Music Center in Blonay, Switzerland. Described by The New York Times as having "conjured a ritualistic air," Trum's compositions reflect a wide variety of musical influences, fusing elements of western classical music, rock, jazz, and the avant-garde into unique sound worlds that are imaginative yet familiar. His music has been performed by musicians and ensembles such as The Electrum Duo, Illumine, Nicholas Photinos (of Eighth Blackbird), Philadelphia's Network for New Music, The West Chester University Percussion Ensemble, and the Kennett Symphony Children's Chorus. He received his MM in Composition from The University of Cincinnati: College Conservatory of Music and his BM in Music Theory/ Composition from West Chester University of Pennsylvania. Trum currently serves as an adjunct professor at University of the Arts (UArts) and is the co-host of the monthly podcast Sean and Dave Make Music. David teaches piano, guitar, voice, bass and drums for the school.
A certified teacher and lifelong musician, Sarah began piano lessons at five years old, and of all her childhood interests, music is the one that "stuck." It stuck quite well, apparently, as she continued lessons through college, adding flute to her studies along the way. Growing up, she was active in many musical groups, participating in District Band, All-Catholic Band, and the Archdiocesan Band throughout high school, even performing twice at the Kimmel Center. Her dedication and talent led her to West Chester University's music program, where she successfully auditioned on both of her instruments, piano and flute, opting to be a piano major. A natural teacher, Sarah studied Music Education and taught private lessons through WCU's Community Music Program before graduating Cum Laude, and going on to receive her teaching certification for grades K-12. She currently teaches music at Memphis Street Academy. Beyond teaching, Sarah loves working with kids through volunteering: she is a unit leader and climbing facilitator at a Girl Scout camp, and runs a Girl Scout troop in Lansdowne through the school year. Sarah teaches piano for the school.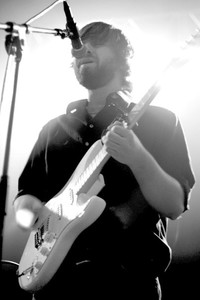 Brendan - *Lead Teacher: piano, guitar, voice
Brendan grew up loving and listening to his Dad's records. What he heard inspired him, so he started guitar lessons, formed a band with some friends, and began writing his own songs. Brendan followed this musical path to college, earning his Bachelor's degree in Music Recording Technology from Lebanon Valley College where he studied both guitar and voice. Though he has a passion for jazz, Brendan loves playing in all different styles – rock, R&B, blues, progressive, and folk. His band, Johnny Action Figure, has performed at top venues in Philadelphia, Nashville and New York, alongside great bands like Wilco, the Get Up Kids, and Apollo Sunshine. Their music has been featured in television shows and commercials on MTV, VH1, and Comedy Central. Brendan currently sings with the Mendelssohn Club of Philadelphia, and they have performed in many notable places including the Mann Center. He is a lead teacher of guitar, piano and voice for the school.
Maura - *Lead Teacher: piano, cello
Maura is a life time lover of music. She began studying classical piano at age 7 and from there went on to study jazz, rock, blues, gospel, and popular music throughout the years. She took up cello at age 9 and continues to play today. Creativity and expression were always important to her and as such, she has composed many instrumental pieces and songs since her teenage years. She graduated from Temple University in 2012 with degree in music education and has taught piano classes at the Philadelphia first Charter School, the Georgia E. Greogry Interdominational School of Music, and general music classes at Immanuel Lutheran private school. She has performed as a solo act in many different venues across the city including the Naked Chocolate Cafe, The Rotunda, and The Tritone bar. She has also performed in the melodic rock driven band Whitewater Pass throughout the Philadelphia area, most notably the Trocadero and World Cafe Live downstairs and in an original rock-funk band called Madame Jones. She enjoys getting to know new students and their musical interests. Maura is a lead teacher of both piano and cello and has been teaching with the school since 2009.
Mary Kate holds a Bachelor's Degree in History from Haverford College and a dual Masters Degree from Bryn Mawr College in Social Work and Law & Social Policy. She has over a decade of experience working with children and families, and has been a teacher with Meridee Winters since 2009. In addition to piano, Mary Kate also plays the French horn. She is currently employed as a social work supervisor in Delaware County, working with children in the child welfare system. She feels blessed by the many opportunities and experiences that music has provided her, and is excited to share her love of music with her students. As for her own musical goals, she is working on teaching herself the acoustic guitar. Mary Kate loves to run, read, and spend time with her two amazing children.
Michael - *Lead Teacher: piano, guitar, bass
Michael Campanile has spent the past eleven years teaching, performing, and recording music on both the east and west coasts. A graduate of the Boyer College of Music and Dance at Temple University, he teaches private and group lessons, guitar clinics and online lessons. Michael has helped many students discover music, with lessons ranging from beginners starting guitar to advanced players looking for a more specialized focus, as well as piano and bass students. Recently completing his 10th studio album, "More Songs No One Wanted", Michael is involved in several projects: a local metal band, a rockabilly Sun Records cover act, and various electronic music recordings. He is comfortable teaching all genres, including rock, metal, jazz, folk, improvisation, and composition, as well as electronic music, recording and production. He has recorded/produced with West Coast performer Peter DiStefano (Janes Addiction), and the notable east coast act Infernal Opera. Some of his favorite musicians include Claude Debussy, Pat Martino, Marty Friedman, and Brian Setzer. When Michael isn't teaching or performing, he enjoys hand tool woodworking, Z grade horror, and anything Dostoyevsky. He has been teaching for the MW School of Music since 2009 and is a lead teacher of piano, guitar, and bass.
*Our lead and master teachers earned their positions through longstanding records of high performance within the school. Learn more here.